Main Function
The main functions of a security camera with a solar battery

Camera Delivery Options
1080P no solar = 1pcs 1080P Camera;
1080 P no solar 32G = 1pcs 1080P Camera + 1pcs 32G SD Card;
1080 P add solar = 1pcs 1080P Camera + 1pcs Solar Panel;
1080 P add solar 32G =1pcs 1080P Camera + 1pcs Solar Panel + 1pcs 32G SD Card.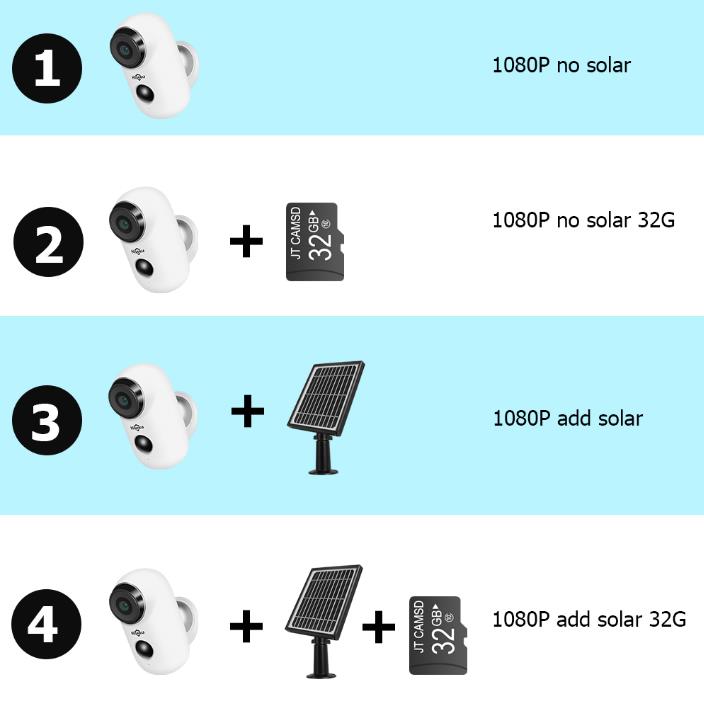 IP65 Waterproof Wi-Fi camera used for outdoor & indoor
It's weatherproof and IP65 certificated works well even in harsh conditions, no afraid to the snow, rain, or heat.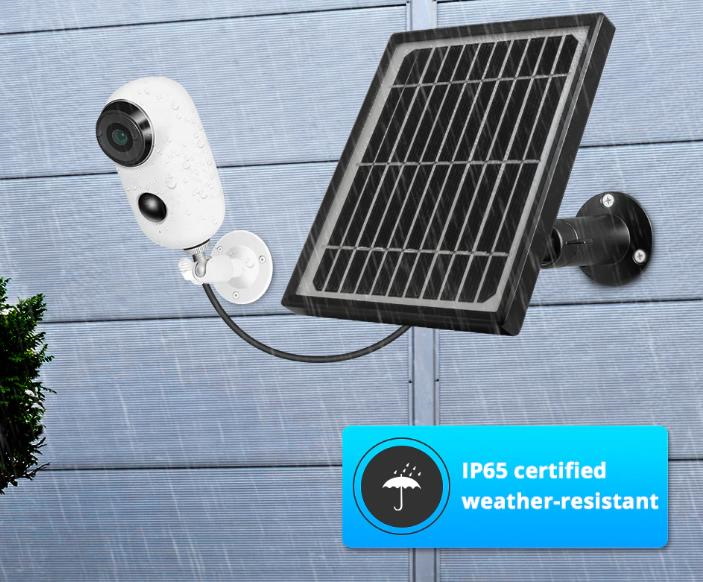 Built-in 6000 mAh Rechargeable Battery
It comes with 2pcs 3000mAh rechargeable lithium battery, which can charge directly via USB cable. About 60 days working time (10 times trigger/day ) and up to 300 days long standby time, convenient and save much money.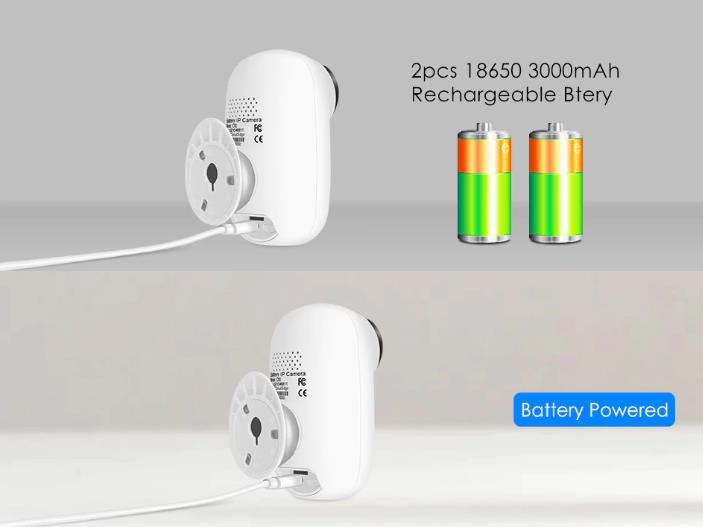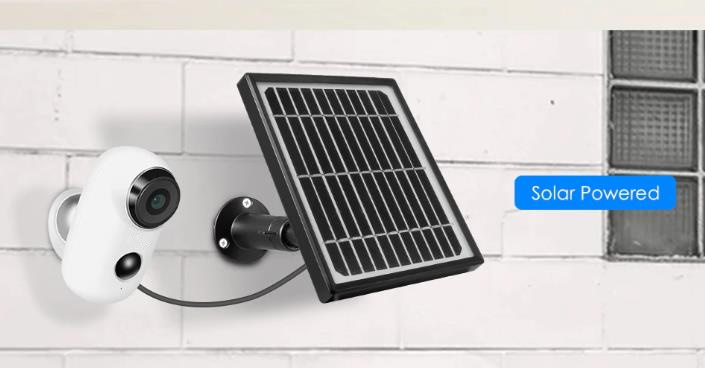 Magnetic Wall Mount, Place & Move Anywhere
With a magnetic wall mount, you can place a wire-free security camera on a shelf or other flat surface, in the baby's room, pet's room, garage, etc., or mount the camera to the wall, inside and outside.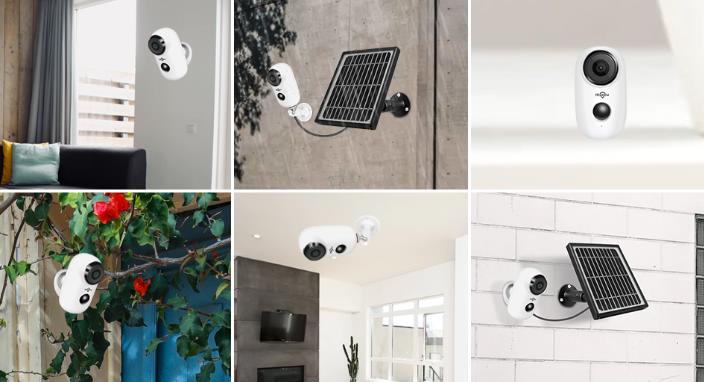 Smart PIR Sensor
Highly sensitive PIR motion sensor offers Instant & Accurate alarms, no human activity slip through without your notice. When human or animal temperature is detected, the security camera will send the real-time movement alert to your phone app, email, and record in the SD card. The IP camera will be in sleep mode when there isn't a movement and will be woken up at once when you access the camera for live-streaming or when motion events are detected.
Motion Detection Alarm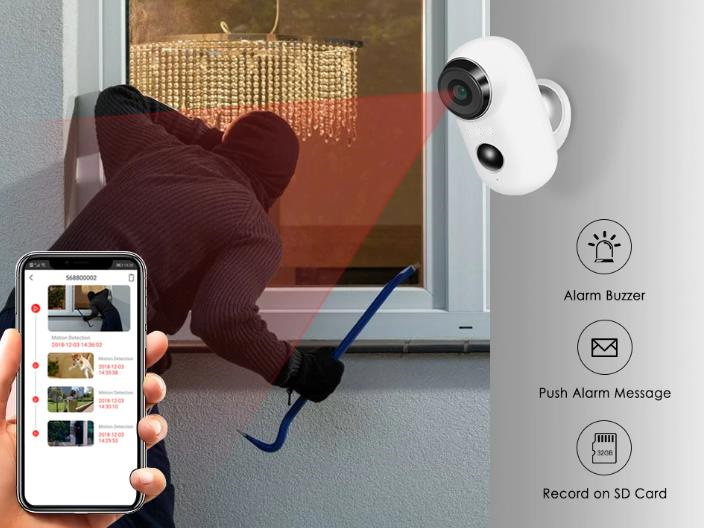 Two-way Audio
Built-in microphone and speaker, no matter how far away, you can easily talk to the baby, child, family through the camera 24/7 remotely. Even if you are out of your home, through the camera, you can talk to the delivery man how to deal with your package.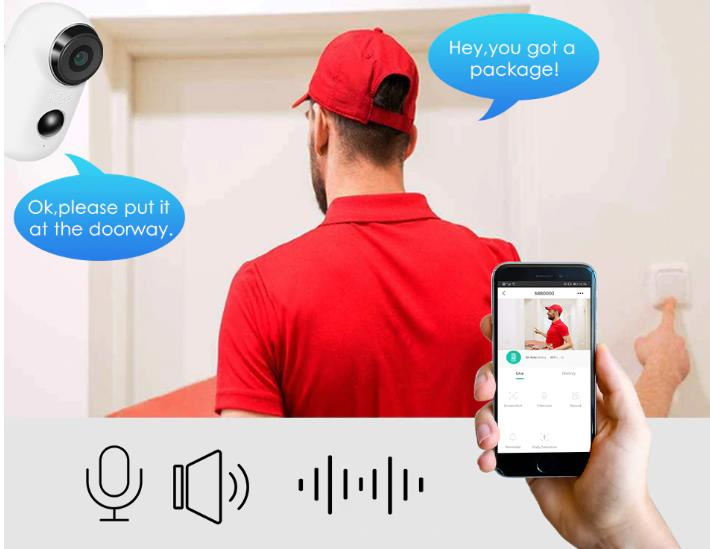 130 degrees PIR Sensor wide angel
Camera with a 130-degree field of view, even the most unnoticeable corner can be detected. See any angle of your house.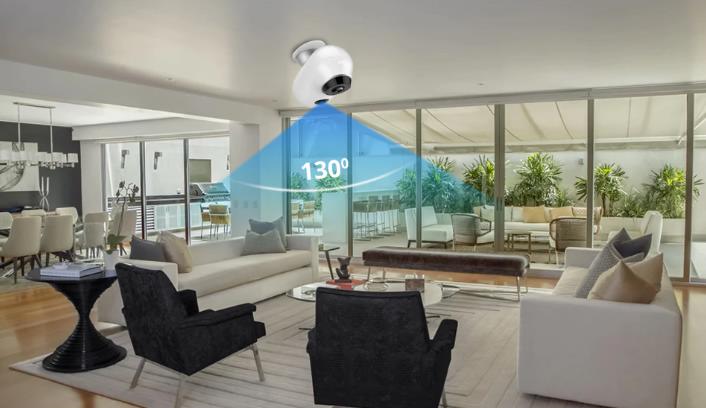 1080P Clear Day & Night Vision
With exceptional 10 meters night vision, the C10 1080P Camera enables you can see clearly even in the dark.

Support TF card & Cloud Storage
Built-in TF card slot, support max up to 128 GB, no need computer and HDDs and get video recorded (TF Card is for optional).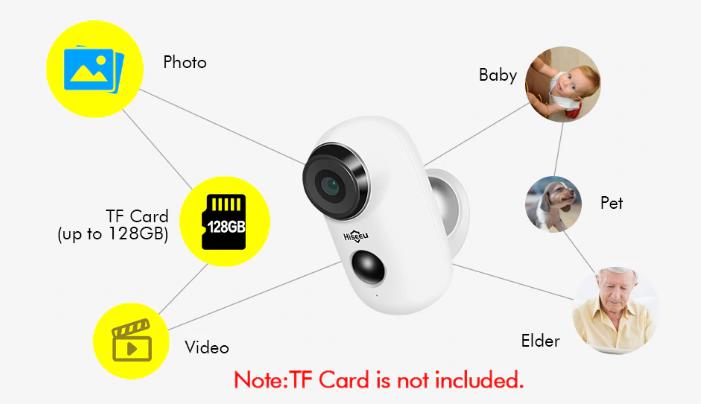 Recording and Playback Anywhere Anytime
Remote Access via Mobile Device Anytime Anywhere.
The camera only starts to record video to SD card when the PIR sensor detects human body or animal motion events, and you can remotely playback the motion videos wherever you are via the free Cloud edge App on your IOS and Android mobile device. Just a few simple steps to set up the camera without any wires, you will get the camera working in the 2.4G Wi-Fi network.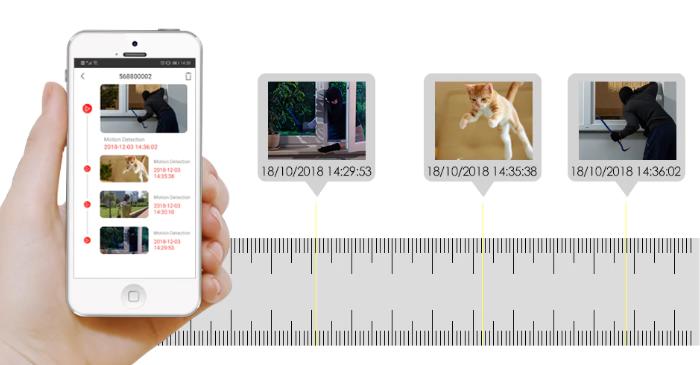 2MP Battery Camera in Details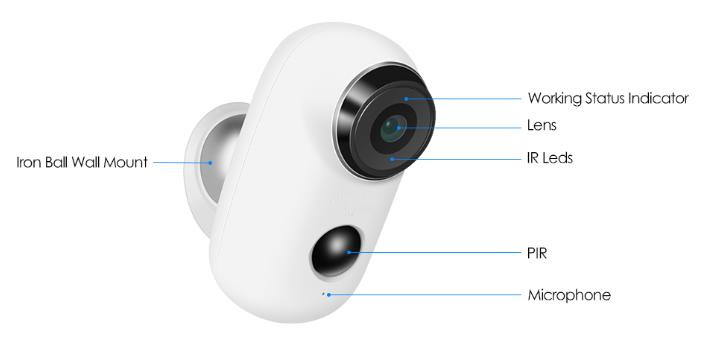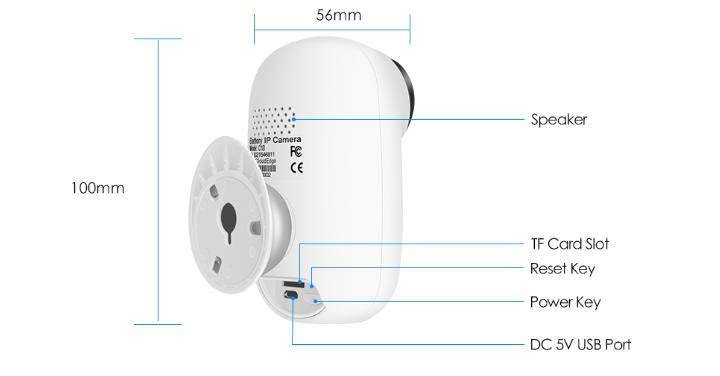 Packing List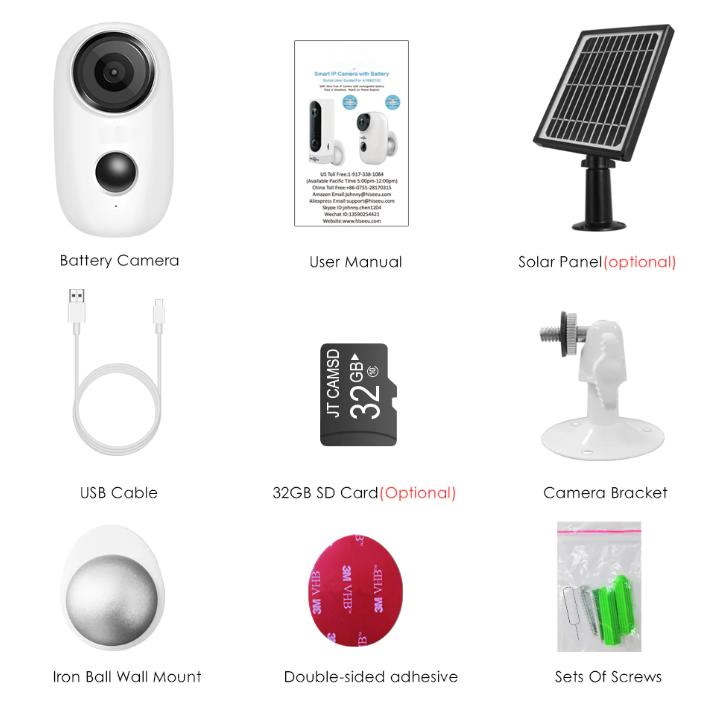 SPECIFICATIONS
Type: 

IP Camera

High Definition: 

1080P(Full-HD)

Lens (mm): 

3.6mm

Style: 

Box Camera

Connectivity: 

IP/Network Wired

Installation: 

Normal

Wall Bracket: 

Side

Power Consumption(W): 

7W

Color: 

White

Minimum Illumination(Lux): 

0.01 lux

Sensor: 

CMOS

Megapixels: 

2MP

Sensor Brand: 

SONY

Special Features: 

Waterproof / Weatherproof

Alarm Action: 

Local Alarm

Video Compression Format: 

H.264

Power Supply: 

Powered Battery or Solar Panel

TF Card: 

None

IR Distance(m): 

10 meters

Power Supply(V): 

DC5V

Viewing Angle:

120°

Technology: 

Infrared

Dimensions (L x W x D)(mm): 

as description photo

Supported Mobile Systems: 

Android,

ios

Network Interface: 

Wi-Fi/802.11/b/g

Audio Output: 

Two-way audio

Power supply: 

Rechargeable Battery and Solar Panel

Battery type: 

6000mA,2pcs 18650 rechargeable battery

100% wire-free Cctv camera:

Wifi battery camera

Two Way Audio: 

Built-in Mic and speaker

IP65 Waterproof Level: 

Outdoor/Indoor CCTV Camera

Built-in PIR Sensor:

IP Camera PIR Sensor

IR-Cut Camera: 

Day & Night Safety Camera